BellesBoard has a wide variety of clients using our product. Despite this diversity, we have recently become aware of a common thread among many of our customers – their use of spreadsheets. For example, one nonprofit is a high school that manages many donor relationships among its alumni. Another organization, also a nonprofit, applies for many grants as part of its revenue stream, enabling it to fulfill its mission. Yet, a third customer relies on several special and programmatic events throughout the year as touchpoints to connect with its constituents and supporters.
These organizations are vastly different in their missions and operations. Yet they share a key operational element. They each use spreadsheets to manage the information related to the aforementioned functions. While this is certainly a step in the right direction, each organization has reached the natural limit of electronic spreadsheets.
Limitations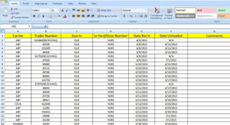 Spreadsheets work well enough when there is only one person managing and/or accessing the information. It is not, however, multiple-user friendly. The average digital spreadsheet is not programmed for effective sharing or updating of information. More than one user accessing a spreadsheet can, and often does, lead to buffering or restarts.
In recent months, there has been an increase in articles documenting the phenomenon of spreadsheets "blundering" or "breaking fairly easily." Further, as a spreadsheet expands, there is greater room for human error that, inevitably, may glitch the program.
Security is also a major concern when sharing sensitive information. Ensuring that only appropriate persons are assigned access to these spreadsheets is essential.
How BellesBoard Can Help!
In our early conversations with all of the organizations listed they cited "upgrading" to BellesBoard as an avenue to combat these challenges in working with spreadsheets. BellesBoard's programming allows for and encourages collaborative efforts within spreadsheets while guaranteeing safety. BellesBoard's nightly backups also provide peace of mind as no data will be lost.
BellesBoard makes the transition from traditional spreadsheets to its platform easy and stress-free. Whether you were using other digital programs or physical, paper spreadsheets, converting them into our software is a smooth process.
You can customize and organize any or all of your spreadsheets within the portal and mobile app so that they are fingertip-ready at any time and any place. Managing your data has never been easier!
If you are with an organization that relies on spreadsheets to manage crucial information, consider taking a demo with BellesBoard. You'll be delighted at how it can improve managing your donors, grants, events, calendars, meetings, and committee and board rosters.
A better way is only a call away.