The Shift Toward Technology
Over the past half-century, and particularly in the past two decades, society has moved toward managing more and more personal and professional data online. From educational information to medical records, online portals have been developed to store more information securely, easily manage it, and streamline organizational efforts. 
Within the nonprofit sector, the move from paper to computer-based records has been a slow shift. It took time for nonprofits throughout the country to invest resources to digitize information – in part due to budgetary constraints and in part due to fear of the unknown (or a resistance to technology). Embracing new technology is often a challenge within the industry as there needs to be a clear line drawn from the investment to the client benefit. Further, understanding how to tap into technology resources in a way that makes sense for the industry has also proven to be a challenge throughout the years. In many ways, the nonprofit industry has caught up and even surpassed parts of the for-profit community in their use of technology. Successful nonprofit organizations understand the power of effective communication. To that end, they have found new ways to communicate their message [and mission] to their audience using the technology tools available – from fundraising databases to social media and email efforts – to increase their brand awareness, revenue, and positioning as experts in the field. The Sierra Club and World Wildlife Fund are two examples of nonprofit entities using their technology resources to dramatically expand their reach. Those that have implemented technology in meaningful ways – while staying true to their missions – have reaped the benefits of both revenue and programmatic growth.
Secure Online Portals
Secure online portals are the latest and most convenient method for engaging with a specific group, accessing documents and data, scheduling meetings and appointments, and even securely signing documents. It is no wonder that using a platform such as this is a perfect tool for use by nonprofit and foundation boards of directors. In fact, any entity with a board, including for profit boards, condominium and co-operative associations, etc., can all benefit from a board portal.
Choosing a board portal is not as challenging as one might think. There are a few key elements to consider. These include:
Ease of use. If it's too difficult to learn and use, it simply won't be used.
Comprehensive product. The product needs to cover all the needs of the board to be truly useful.
Designed to truly save time. The product needs to be one that, when deployed in full, will conserve human capital on the staff side and a respect for the time available to give on the board side.
Competitively pricing. The product needs to be priced in a way that reflects a good investment on the part of the organization.
BellesBoard, the Solution for Entities Large & Small
BellesBoard is a secure online portal designed to meet the needs of nonprofit organizations, foundations, corporate board entities, professional associations, and other entities working with boards of directors or trustees. The product, which is offered both via website and mobile app, enables organizations to streamline communication and activity with the board on a secure, easy-to-use platform. This board management tool enhances operational efficiency and compliance with government regulations. The portal offers all the features needed for enhancing the activity and engagement of the board while remaining one of the most cost-effective products on the market today. 
Let's examine the features that set BellesBoard apart from the competition.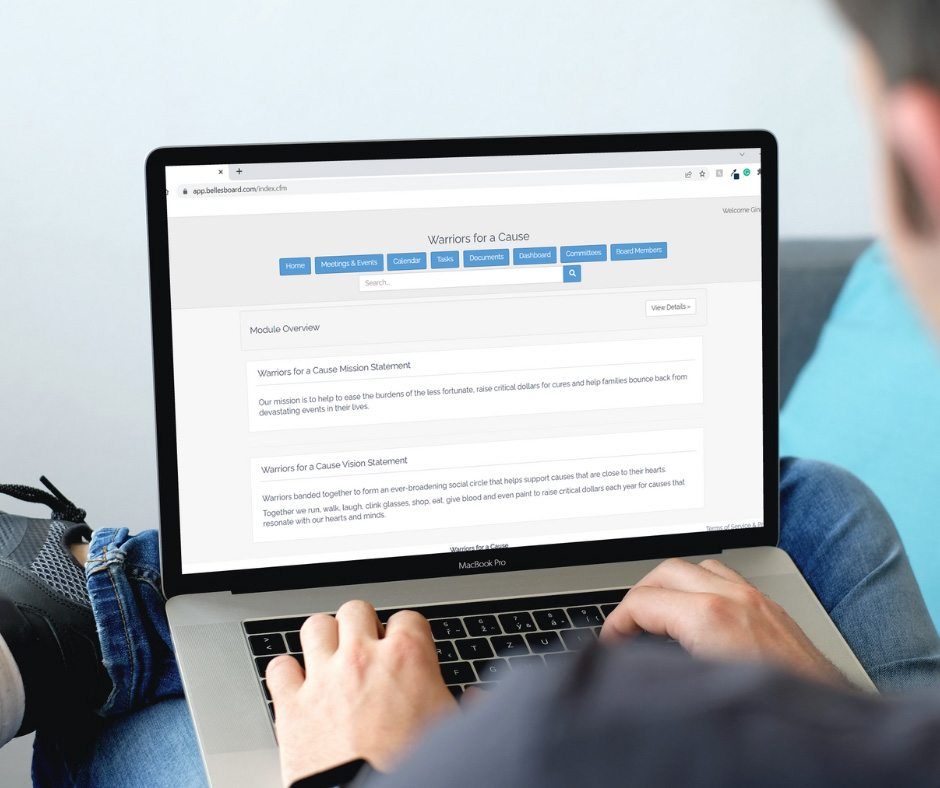 The Onboarding Process
Transitioning to a platform like BellesBoard is a strategic investment into the success of an organization's key governance body. Even when the decision has been made to move forward, there can be 'cold feet'. For this reason, BellesBoard is offered with a no-risk 60-day free trial. During this window, the BellesBoard team populates key materials for your organization, the relevant personnel are onboarded, dashboards are customized, and those using the product can get acclimated. Customer service is critical from the onset of, and throughout, the relationship with the team at BellesBoard. It is during this time that clients get to understand the partnership with which they have entered.
The goal is for every user to feel comfortable once they log in to the portal and as they navigate through from module to module. To provide a better understanding of the comprehensive nature of the platform, let's walk through the various tabs and modules you will encounter when using BellesBoard.
BellesBoard Modules & Navigation
The Meetings & Events module is the most widely used part of BellesBoard. It provides quick access to past, present, and future meeting information. Board members can easily view or download the documents needed to be prepared for upcoming meetings or to review information from prior meetings. Even when unable to attend a particular meeting, directors can stay abreast of all relevant information to be discussed. Meeting reminders are automated and sent, with a track record of improving attendance for clients currently using the platform.
The Calendar module offers an easy way to see all upcoming meetings and events. This includes board meetings, committee meetings, and even fundraising events. Users can choose the view(s) with which they are most comfortable [monthly, weekly, daily, memo, etc.].
The Task module enables the full board or its subcommittees to keep track of assigned tasks and collaborate on projects together. Documents can be sent for electronic signature to ensure important compliance requirements are met (such as members' signing off on the annual Conflict of Interest disclosure form). BellesBoard integrates with SignNow for user-friendly electronic signing. Further, in-app polling and voting can be utilized for easy and quick voting or gathering of feedback.
The Documents module is the repository for all organizational documents structured by folders, subfolders and favorites (at the top). Users can view and download documents related to board and committee activity, such as strategic plans, policies, and governance material. Finding documents is quick and easy with a 'free-form' search function that eliminates the need to know the location of specific content Custom folders may be created with permissions granted only to those who require access to certain documents.
Each organization using BellesBoard can configure the Dashboard module to include relevant financial information and programmatic metrics. This module is an easy way to keep your board up to date with relevant performance metrics for the year. Educated boards are engaged boards. Thus, providing fingertip-ready information helps each board member stay abreast of the organization's successes and challenges, making them better ambassadors in the community.
The Board Member module maintains the current list of the Board of Directors or Trustees, along with preferred contact information, term dates and the committees on which each member serves. Past members can be maintained here as well should historic or archival information be required.
Situated next to the Board Member tab is the Committees module, where a roster of all organization committees and their respective members reside. Information on non-Board committee members or groupings of key staff may be kept here as well to have comprehensive data on all committees, regardless of their makeup.
Email & Mobile Notifications
BellesBoard's Notification functionality makes it easy and efficient for administrative staff and board members to communicate.  Board members receive automatic notifications of upcoming meetings, new documents that have been added, and tasks or projects to which one is assigned.
BellesBoard Mobile App
The mobile app provides 24/7 access to board-related information right on your iPhone or Android smart phone. Need to check when the committee meeting is? Want to review that resolution? Want to have a quick chat with your committee? It's all available and more with BellesBoard's mobile app.
Focused on Small and Medium-sized Nonprofits
After months of research and listening to the needs of nonprofit and foundation executives, board members, and governance liaisons, Christine Deska and Frank Orzo, co-founders of Nonprofit Sector Strategies, and developers of BellesBoard realized that small and medium-sized nonprofits were underserved by affordable technology solutions. BellesBoard was developed specifically to fill that gap.
The goal was to offer a feature-rich product and an affordable price. There are no gimmicks; no shouts of 'but wait, there's more'. The BellesBoard founders know that small and medium-sized nonprofits have limited resources, so the turnkey onboarding experience which comes with the first 60 days offered at no charge is designed to enable organizations to begin getting the benefits of their investment as soon as possible.
Move your organization forward with BellesBoard.
Contact Christine Deska directly cdeska@bellesboard.com to start the conversation or schedule a quick chat now: https://calendly.com/bellesboard-community/15-minute.