Ease of Use
BellesBoard is dedicated to ease of use and convenience for all our customers. One essential way BellesBoard has optimized usage is through our mobile app. Mobile apps are perfect for regular users of BellesBoard, providing on-the-go quick and easy access to desired information.
Accessibility
Statistics show that in today's hectic world, 55% of web traffic stems from mobile devices, proving them to be a foundational way of accessing the internet. Using the BellesBoard app will ensure that your board has access to the information they need even if they are not in front of their computer.
Why Mobile? 
Since the early 2010s, cell phones have dominated technology and the world. In turn, industries, both for-profit and nonprofits alike, are now dependent on mobile devices to conduct business effectively. As a director on a board, having all your relevant information securely stored on your phone is essential for working smarter – maintaining deadlines and compliancy standards – yet with marked ease.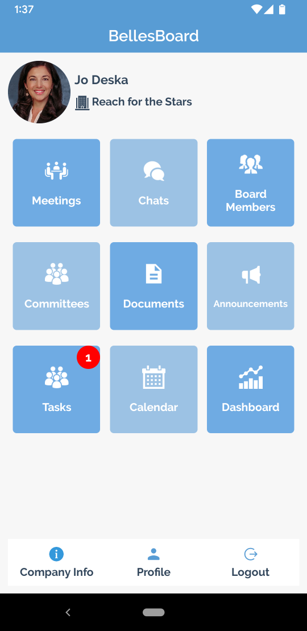 Everything at the Tip of Your Fingers!
With the BellesBoard app, everything you can find on the desktop version is accessible on your mobile device through your personal account. Check in with your board or take care of required tasks without opening your laptop. Stay up to date and informed without being at a desk in front of your computer, review, and sign documents, anywhere anytime.
Studies show that smart phone users spend 88% of their time on apps as opposed to websites. It is fair to conclude that if that is where the community is, then that is where your directors are as well. The convenience of accessing a portal through an app is essential to board engagement. Directors who are spending most of their connected moments on a mobile device may spend more time on the BellesBoard app than on the desktop version. The longer your members spend on the app, the more they are engaged in the mission of your organization or agency. Further, if they are frequently checking in via the app, they will consistently be up to date with the work they need to complete, bettering their productivity. Other portals that do not offer an app version, simply cannot offer this level of convenience to their users.
Speed and Efficiency 
The BellesBoard app is excellent for our customers often on the move. In today's world, everyone has a smartphone on hand. Even when accessing a laptop or desktop is inconvenient or impossible, directors can remain linked into the goings on of the board via the tap of a button on their phone.
The app is high speed and efficiency focused. Oftentimes, mobile apps have faster response times than websites, with documents loading and opening with a greater speed. Speed is an asset for non-profits, and the BellesBoard app provides that.
Seamless
For those who have begun using the website version, getting accustomed to the BellesBoard app requires no adjustment period. Moving from website to app is a smooth transition. Everything has been tweaked to best fit a mobile screen without changing the visual or user experience drastically.
So go ahead, download the app in the version designed for your device. Log in and try it for yourself.
BellesBoard…comprehensive, secure, and convenient!